Great Arcade fun with Supercow!
Funny »
Animal »
Kids »
What is this game about?
Supercow is an arcade platform game with many fantastic and comical elements! Here, you will take the mantle of the Supercow and save the poor farm animals from the clutches of science.
This is a great arcade game that is also suitable for preschool kindergarten kids or even toddlers. As a gamer that enjoys casual gaming, this cute animal game for kids is a must download!
Great arcade gameplay elements!
Supercow adds a touch of physics based challenges to keep players entertained. The game has simple yet effective controls: arrow keys to move, spacebar or the up arrow key to jump. You only interact with your environment via jumping, either to break something or to damage enemies (by landing on their heads).
As you load a level, you are given a specific task, be it find the exit or beat all enemies. If the latter, an arrow will guide you towards the nearest enemy, since sometimes they hide with the foreground. Once you complete the task, the exit opens and you can finish the stage.
If enemies hit Supercow, they damage her health bar, and if enough damage is made, she dies. You have a number of lives available before you get a game over, and there are checkpoints all around for one you lose some of your lives.
To aid you, there are certain pick ups that can help. Anything that seems food or healthy, be it milk or heart shapes, can heal your health bar. And if you come across an apple tree, you can jump beneath it and make the apples fall, which also heals you.
Another pick up without an immediate effect are the coins. They come in all shapes and sizes (some are even gold bars) and they give an amount of points. What might interest you if you are a completionist, is that by gathering all the coins and beating all enemies, you can get the highest score (and a 100% checkmark) on any given level.
But to do that, you need to find the secret zones. These areas are designed to be tricky to find, and you might need plenty of replays on a single level in order to know where everything is. This gives the game plenty of replayability beyond your first playthrough.
And for those who crave a change of pace while staying within the realm of classic arcade charm, you can play Pacxon which offers a fresh take on the arcade experience, blending timeless appeal with modern twists that will keep you hooked!
Download Now
Please use PC to download
Amusing storyline that is cute yet..slightly morbid!
The story is a simple yet amusing tale that could be the plot of a sunday morning cartoon. An infamous scientist and criminal, Professor Duriarti, escapes prison and ends up in a farm in Sunny Valley. He captures and clones animals to do his bidding, which is to ultimately destroy the world. Only Supercow can stop him now.
All this is told in a very well realized comic strip, with little jokes here and there for the keen eyed. Beyond this brief cutscene, the game tells its story via journal entries and dialogue. The journal can be read as a sort of inner monologue for our protagonist, and it is displayed in the level select screen.
The dialogues only happen when you beat five stages; afterwards you will rescue one of the farm animals and hear their tale. If all you want is some action platformer goodness, you can simply skip the dialogue with the button prompt.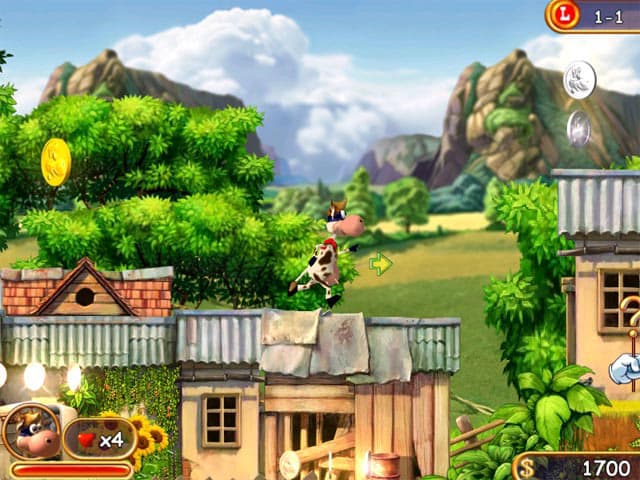 Cartoony art style and graphics that are also endearing!
The cartoon game's art style is delightfully childish and cartoony, featuring characters crafted from basic shapes and a vibrant color palette that's visually appealing. Tailored for children, the game surprises with hints of humor aimed at an older audience in its dialogue, making it a delightful experience for the whole family.
Despite being a 2D side scroller, Supercow and her adversaries are skillfully rendered in 3D, maintaining the charm of 2D games while adding a natural fluidity to their movements.
Rescued farm animals, portrayed in 2D, come to life with full voice acting as we interact with them—a charming detail. Our protagonist, Supercow, remains in 3D, strategically positioned with her back to the camera during conversations with other animals. This clever technique creates the illusion of characters engaging in dialogue without requiring additional renders of our heroine.
For more exciting kids' games, check out the best pc games for kids here.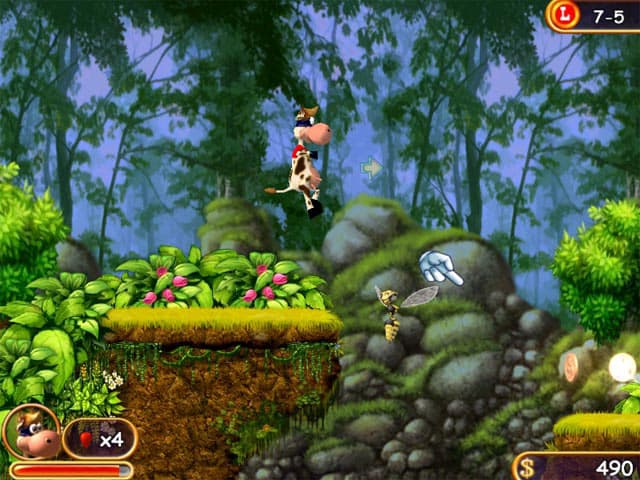 Enjoy the game absolutely free!
If you're in search of free kids games that offer a perfect blend of side-splitting humor, eye-catching 2D graphics, and just the right amount of challenge to keep you engaged, then gear up to help Supercow save the day in this exceptional classic-style platformer game! Embark on an uproariously funny quest to rescue the helpless farm animals from a state of scientific pandemonium and hand evil Dr. Moolani his ultimate defeat. The fate of the entire farm is in your mooo-ving hands! For a similar gameplay experience, you might also enjoy the free Marble Run 3d game. So, get ready to blast off on this comical adventure and give Dr. Moolani the udder defeat he deserves!
If you enjoy these free games, you will love this list of our 10 Best Farming Games!
Published 28 September 2023
21342 Views