Grab a fulfilling Time Management game, Roads of Rome: New Generation 2
Time Management »
Building & Farm »
Strategy »
What is this game about?
Roads of Rome 2: New Generation is a time management game set in ancient Rome. In this game, you take the role of Valeria as she leads her troops and villagers in search of her husband, Markus, who had left to lead the war effort against the invading Vikings.
While there are troops for you to manage and bases for you to build, ultimately, this is not a strategy or combat game. For a better hint on what this game is about, look no further than the word "Road" in the game title. You will have to manage your resources and build roads to link your amenities and towns together!
Roads of Rome: New Generation 2 offers an unparalleled fusion of time management mechanics and the visual splendor of isometric games experience that will challenge your skills, tug at your heartstrings, and keep you coming back for more. So, gather your wits, rally your team, and embark on a journey that promises to redefine your perception of both little games and grand adventures. Your destiny awaits, and the clock is ticking! Can you help Valeria achieve her goals of improving the lives of the Roman citizens while helping her seek out her missing husband?
Engaging time management and resource management gameplay!
In this time management game, you will have to grow and maintain your troops through various stages as you complete each and every objective. As the saying goes, an army marches on its stomach, and food is always a must-have resource.
Work towards having enough food! To this end, you need to expand and explore in order to construct the things you need, be it additional granary space or more crop fields. Be it wood, stone, or gold, you will need them in varying amounts to upgrade your buildings and the livability of your home base. This game is reminiscent of Windows 8 games that involve resource management and base or empire building.
If you are aiming for a place in the high scores, upgraded buildings will also be important as they can increase the speed with which you collect resources.
And now to the main crux of the game - building the road. This will be your main objective throughout every level as you strive to connect all the cities and towns with your home base. This will be a lengthy process, and we found that it was a very realistic part of the game
For example, you cannot just build the road when you have the materials. You will also need to clear the way for the road to be constructed. This includes the tedious process of removing boulders, fallen trees, and other debris to progress.
The roads you construct are also not considered fully operational even if your troops are able to use it. Road building in this game is a multi-step, elaborate process. A strategy that worked for us is to have multiple troops working on different parts of the road to expedite the road-building process.
Remember what we said about this being a fulfilling game? The great lengths to which we go in order to build the roads, and the eventual pay-off and sense of satisfaction when the roads are finally built, that's what makes this game so fulfilling.
Download Now
Please use PC to download
Well-designed power-ups that helps you throughout the game!
We mentioned that there is a high score available for those who wish to build their roads in the shortest amount of time to complete the game. In order to rank highly, the game developers have designed some power-ups that are weaved seamlessly into the game mechanics.
Such power-ups include things that you can find, like boots that makes your troops move faster, or a bag that allows your troops to carry more resources. These power-ups are explained in the tutorial of the game, and shows the depth of strategic thinking and resource/time optimization.
The prioritization of buildings that you construct is also important, especially in the stages where you cannot have every type of building yet. When what you cannot build is what you will not be able to produce and have to do without, you will have to plan ahead and consider what you truly need.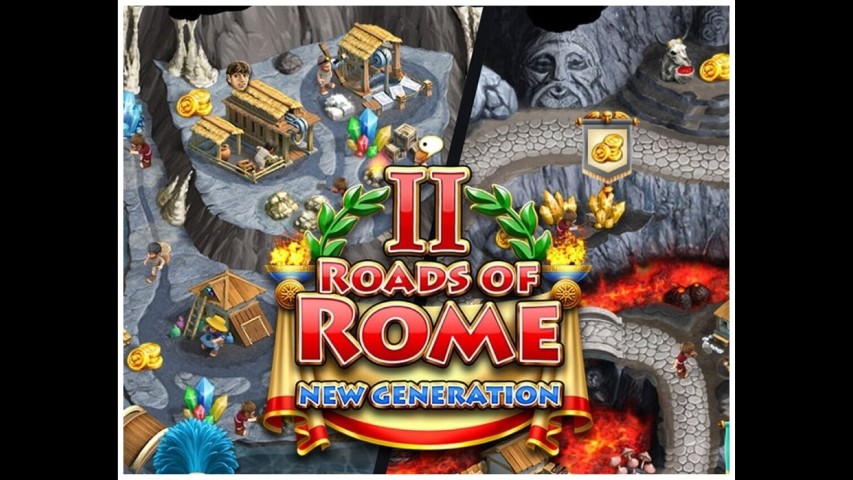 Beautiful art style and graphics!
One thing that you may notice in the game is that the art style is two dimensional with vibrant colors, especially bright red. This is because the Romans heavily favored this color scheme, and the game developers have weaved the cultural significance of the color into the game.
The backgrounds are also really pretty to look at, and the mini games that feature hidden object scenes in this game are also depicted in a historically accurate manner with stunning graphics. As you advance through the game, the backgrounds can also shift as they are affected by the different climates. Changes in sceneries, especially when (spoiler alert!) entering the snowy mountains makes for a nice and refreshing treat for your eyes.
The animations are also excellent and detailed enough that you can make out what your troops are doing, and when they are not doing anything. This helps you to visually check, at a glance, what you need to assign them to do.
But where the art truly shines is in its cutscenes detailing Valeria's personal story. These snippets are told with still images, beautifully hand drawn with a brush style paint job reminiscent of a good comic book. As the player, you can expect to be treated to these cut scenes are you progress along the story, and they convey the feelings of pining that Valeria is going through as she tries to catch up to Markus. It is a touching love story that many will be able to appreciate.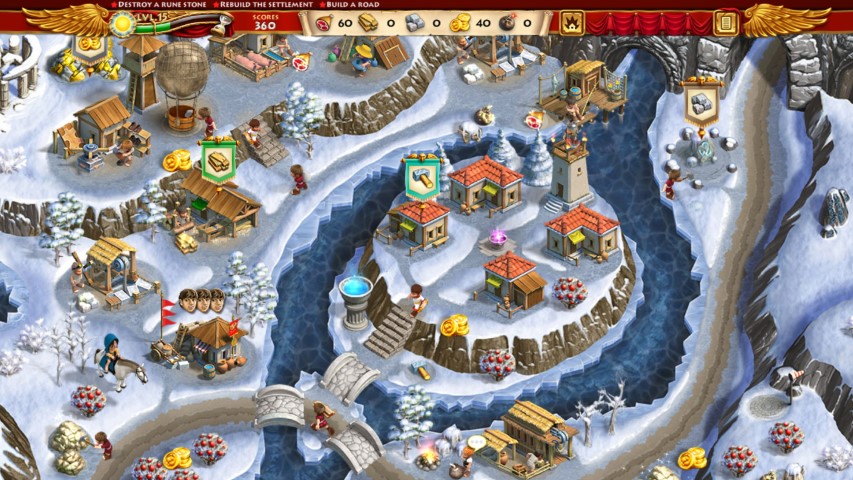 Enjoy the game absolutely free!
Roads of Rome: New Generation 2 is a game with a surprising depth and a refreshing story of a war-torn nation, hope, and love. The road-making focus of this game as a way to clear each stage and progress in the story is also a welcomed change to the time management genre since it makes the game feel more connected, unified, and fulfilling.
This game is definitely worth your time, and the beautiful art style is a bonus treat for your eyes on top of its outstanding gameplay mechanics. Try it now!
If you enjoy these free games, you will love this list of our 10 Best Time Management Games!
Published 11 October 2023
40969 Views