Dive into exciting Match-3 puzzle game, Lost Treasures of Eldorado
Jewel »
Girl »
Matching »
What is this game about?
The art style is, as expected, extremely colorful. And since it says so in the title, there are also heavy Aztec and Egyptian themes all around. Everything, especially the menus, are decorated and designed as if one was exploring an ancient golden temple. It transports the player into another time and place, reminiscent of some of the more immersive Windows 8 games from that era. The gems one has to match are also quite beautiful, and they have a peculiar shine that adds to the atmosphere.
In one of the best free match 3 games, you play as an explorer in the style of Indiana Jones, working in Egypt, when your assistant urgently brings you a distressing letter from a colleague in New York. Rushing back to the United States, you discover your colleague missing, with the only lead being her last project at the museum. Your quest to investigate the ancient relics at the museum is played out through match 3 gameplay. After completing a set of levels, the story advances, and you move to the next location, where you'll face more challenges. While the story mainly serves to add context to the gameplay, it's narrated through charming comic book pages, making following the plot an enjoyable part of the adventure.
Download Now
Please use PC to download
The main game mode is the matching game To clear a stage, you need to follow a series of steps. First, clear all the golden tiles by making matches inside of them. While sounding simple, there are plenty of things that might prevent you from doing so.
Chained tiles can not be moved until a specific combination is made with them, boxes need to be broken by making matches near them, safes are similar to boxes but require more than one match, and so on. What this game also has, are different items that are not for matching, but for taking to the bottom of the screen. This is the only way to get these special objects, so you should make this a priority.
Other than that, you might also find several keys. These keys, once they hit the bottom, can unlock things according to their color. Within the same stage, they might unlock access to the rest of it, or they might even unlock access to another screen; you see, levels are mostly composed of more than one screen, and you have to complete them all to beat a level.
In the relaxed mode this is a non issue, but in the more challenging ones like timed or limited (limited moves, that is), this is a more pressing matter. Not having the whole playing field in view can make the strategic thinking more complicated, since you can not plan ahead what you can not see.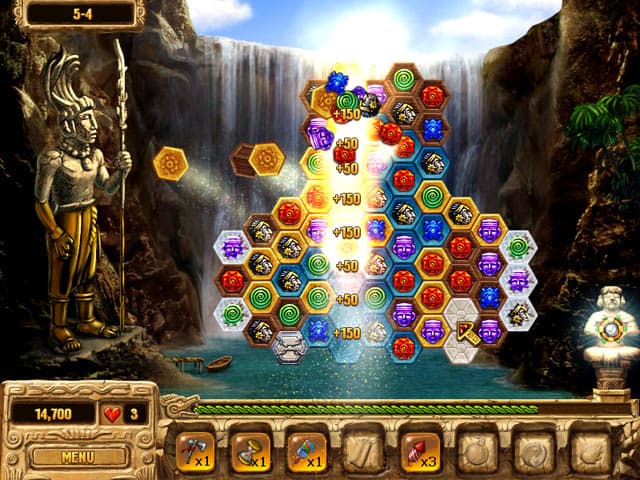 Keep in mind that in this game, matches are not made by moving the tiles around, but by moving the cursor around a path of the same looking tiles. Therefore, strategy is king, since you can move around matches in such a way that prepares quite the long chain.
In fact, since diagonal moves are not only allowed but encouraged, doing complicated moves that twist and turn is the optimal way to complete each stage.
The higher the score, the better you do, even being able to gain a reward at the end. So you might want to avoid doing small chains only because a golden tile is in the way; a better path will probably present itself if you pay close attention to your surroundings and think about your next move.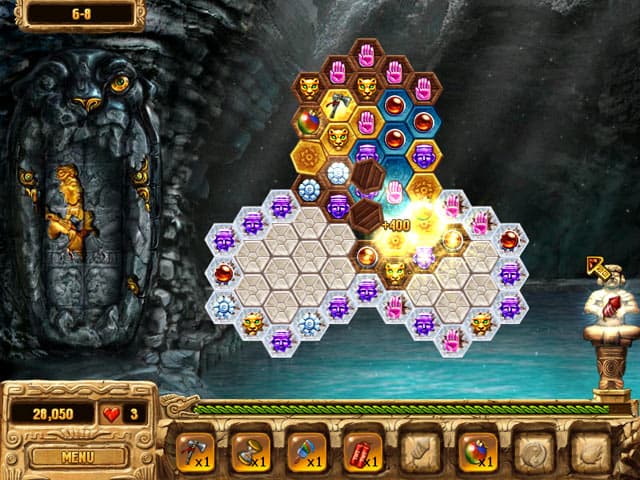 Enjoy the game absolutely free!
Lost Treasures of El Dorado has plenty of intricacies and depth in its gameplay, and it is well capable of urgin from you that sense of having to play just one more round. And with the plethora of levels that can be found in the game, it will keep you entertained for hours on end.
And if you're interested in exploring more fun games, why not play free bubble games. They are equally exciting and can keep you entertained for hours!
If you enjoy these free games, you will love this list of our 10 Best Match 3 Games!
Published 12 April 2023
4628 Views