Get snowed in Match 3 mania with Ice Crystal Adventure!
Jewel »
Match 3 »
Girl »
What is this game about?
Ice Crystal Adventure is a match 3 PC game developed by Joyful Software, where you need to find hidden crystals in order to help some magical creatures be safe from an evil dragon.
The harsh winter is also a hazard, so you will have to find your way home as soon as possible!
Stage by stage Match 3 action!
The match 3 gameplay sees us tackle each stage one by one, and as we beat them we unlock the next one in the row. Beating stages with a certain amount of points grants us stars, and there are three to collect per level.
In the levels, we are shown a grid filled with gems, and we have to match them to the same colored and shaped gems. We do this by holding click and dragging the mouse over the gems we want to match, and if we press right click we can deselect what we are currently doing.
Matches work slightly differently here than in other games, since we can make matches in a diagonal manner, or even go back in our steps and make odd shapes of matches. This allows us to finish the combo wherever we want, an important factor since if we make a match of seven or more, we get a powered up gem where we release the click.
Using this we can clear whole rows with small matches, so it is useful to strategize. There are other power ups we can get, and there are some that require the gold that we make as we beat levels. An example power up is the rainbow claw that allows us to make a continuous match using two different colors. Others allow us to explode all unlocked power ups in the screen, making way for combo strategies not that common in the genre.
The goal in each stage can be either make points or clear tiles, depending on what is announced at the beginning of the level.
Download Now
Please use PC to download
Keep Amelia and her cat safe!
The story sees our protagonist sky gliding with her cat, when a mysterious dragon shaped shadow blocks her view. As this happens, a vortex opens that takes her to the land of magic. She crash lands and is saved by some passing friendly trolls, that explain her unique situation. She is in a land controlled by an evil ice dragon and its minions, the giant cave rats.
There is no path to leave this place, and the trolls are being enslaved by the dragon. As our protagonist is trying to understand all of this, the mentioned rats appear and try to take her. That is when her cat, who can talk now, uses a nearby stone to chase them away; the stone being magical in nature.
The trolls are surprised at this, since the only one that can tell which rocks are magical is the dragon, and it is why they are mining slaves: to find more rocks for the dragon. If the evil villain gets hold of enough magical rocks, it might mean the end for everyone here.
Our brave main character musters her courage, and uses hers and her cat's ability to see and detect these magical stones in order to use them against the dragon, save these people and return home.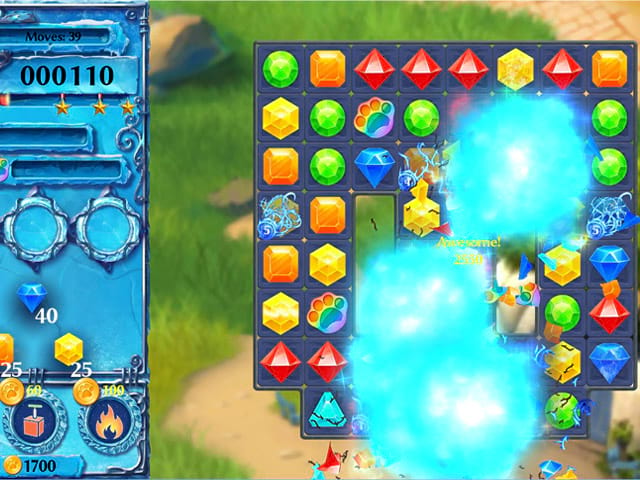 Simple but effective art style!
The game's art style is simple but effective. Most of the time you will be playing the matching game, which has beautiful renders of three dimensional gems that move and explode as you interact with them. While the menus are stylized in conventional manners (grey with small decorations), it is still functional if a little sparse.
The real art can be found in cutscenes, character designs and the in game map. The game tells its story as if reading an old fairy tale book, with the margins of the screen looking like ragged pages and the pictures filtered through a sepia tone. The characters are made in a way reminiscent of Disney movies, and are fairly detailed and beautiful.
We find many kinds of creatures here, like trolls and talking cats. The map screen does away with the sepia filter, and it is fully colored with glorious brightness. You can scroll through it at your leisure even if you have not unlocked the levels, being able to see the imaginative places you will go on your journey.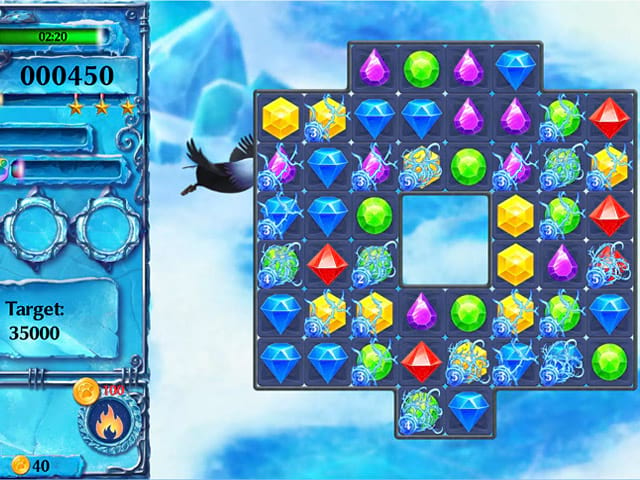 Enjoy the game absolutely free!
Ice Crystal Adventure is a fun departure from the norm of Match 3 games, and its whimsical story and magical features are sure to entertain for hours on end.
And if you're interested in exploring more fun games, why not play free bubble pop games. They are equally exciting and can keep you entertained for hours!
If you enjoy these free games, you will love this list of our 10 Best Match 3 Games!
Published 16 August 2023
25651 Views