Strategize with this Match 3 Gem, Clear It 8
Relaxing »
Brickshooter »
Brain »
What is this game about?
The free match 3 game has a vibrant art style and a cheerful color palette. The characters within the game possess a distinctly cartoony appearance. The predominant colors used are primary hues, but as players progress through the levels, the challenge escalates, resulting in a burst of vivid colors with numerous floating gems.
Interestingly, the game's only common thread is its focus on color. The menus and other characters lack specific themes; instead, they are characterized by their vibrant and diverse colors.
Gem Matching Fun
So, you're probably wondering what this game is all about, right? Well, it's pretty much all about matching gems, just like the kind of fun you'd have with paint by numbers games. Imagine this: at the beginning of each level, you're faced with a square block filled with a bunch of shiny gems. And around the edges of this square, you'll see rows of gems, each row flaunting three dazzling gems.
Now, here's where the fun kicks in. You've got to click on one of those rows, and guess what? The gem at the end - the one closest to the group of gems - breaks free. Unlike some other matching games, there's no pressure to match a specific number of gems; just make sure you connect more than one. Oh, and keep in mind, it's all about creating those cool chain connections!
What's really cool about this gem adventure? Well, as you keep clicking on those rows of gems, you'll never run out of gems to play with. It's like a never-ending supply of gem bullets! But here's the catch: you need to aim carefully. If you miss, maybe because of a little miscalculation, you could end up making a mess or, even worse, creating a whole bunch of new gems you now have to deal with.
So, if you want to dive into more awesome matching games, check out this list of the 10 best matching games. Have a blast matching those gems!
Download Now
Please use PC to download
Chaining the Gems
When you just start the game, there will only be about two colors, green and yellow. But believe me when I tell you, it gets more complicated. It is already a complicated mindset to be in, being mindful of each corner of the screen and which row affects which gem; adding multiple colors is just mind boggling. And on the higher difficulties, the biggest knife on the back are the gems that are similar in color, just different in shade. You need to truly master the game in order to beat the final few levels. The increasing complexity with additional colors and similar shades makes this game resemble coloring games.
It is not all bad news however, since sometimes there will be special power ups for you to pick up. Usually you can get them by shooting them, or by making a specific match. While it might not go to your personal plans to make said shot, the powers are quite significant. The lighting bolt, for example, can clear four entire rows on its own. Insanely powerful.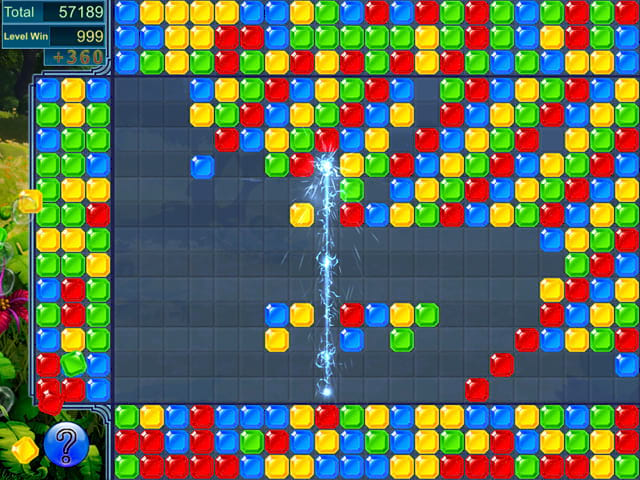 Stage Selection and Difficulty
In terms of the different stages, you can choose on the different difficulties and play a set of stages designed for each tier. The higher tiers, while more difficult, offer more rewards in the form of points. As you finish levels, you are given the option to gamble said points in a simple game of cards; whomever gets the highest card, wins. Yet this gamble is the double or nothing kind, therefore if you lose, you earn nothing. You still keep any levels you unlocked however, so you don't leave completely empty handed.
In case you are wondering, the points do have a use. On the top right corner of the main menu, you will see an icon with a puppy on it. Click it, and you are taken to quite the scene: stacked rows of caged puppies!
You simply must free them, but for that you have to pay their jailer, and he wants the points you have been making! Once bought, the puppy will be a permanent part of your personal, puppy paradise. You can see their little houses by clicking on an arrow on the right. If you don't play the game for the sake of the game itself, at least do it for the puppies.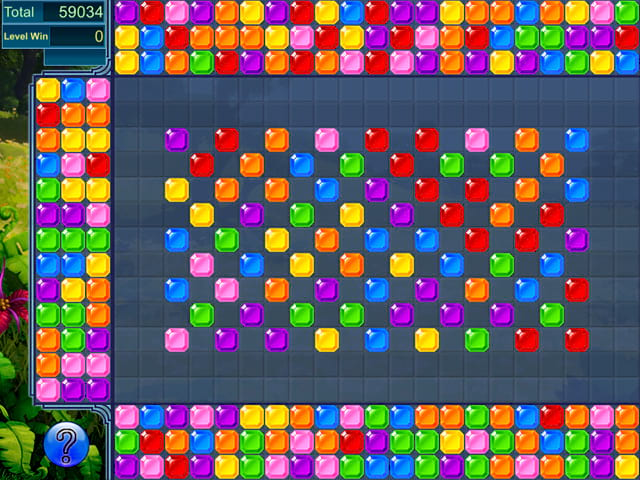 Enjoy the game absolutely free!
Clear It 8 maintains the strategy and gameplay of the franchise, adding the hardest gem puzzles that we've seen yet.
And if you're interested in exploring more fun games, why not play free bubble shooter games. They are equally exciting and can keep you entertained for hours!
If you enjoy these free games, you will love this list of our 10 Best Match 3 Games!
Published 15 November 2023
5903 Views